SAM IKPE ITAUMA,
FIRST AFRICAN ANTI WITCH-KILLING CAMPAIGNER
Sam Ikpe Itauma is the president and founder of the Child's Right and Rehabilitation Network (CRARN), and the CEO of Itauma Foundation (IFOUND). He started rescuing children considered as pariah when he was a student in the University of Calabar, Nigeria in 2000. He has a very strong aversion for the act of branding children and older people as witches and wizards. Itauma used his school allowance to feed children rejected and abandoned by families for fear of being witchcraft-possessed.
Sam Itauma has taken refuge since 2011 in the U.S. as a result of multiple kidnapping attempts. 

Since CRARN's documentation of the powerful Liberty Gospel Church (one major influence of the current witchcraft stigmatization) and role in fighting against other influential pastors, the danger for Sam Itauma is real – even in 2021. Sam flies to Nigeria for the CRARN Center as often as possible at his own expense; yet, he still has to be extremely careful on site by keeping a low profile. 
With his local job in the U.S., he is able to not only sustain his own life there, but also manages to donate approximately 40% of his monthly salary to CRARN itself. As such, he is currently the largest recurring donor. He dedicates all of his free time outside of work to ensure CRARN continues to work effectively and grow by organizing rescue missions, guiding staff and handling the day-to-day operations at every level of CRARN.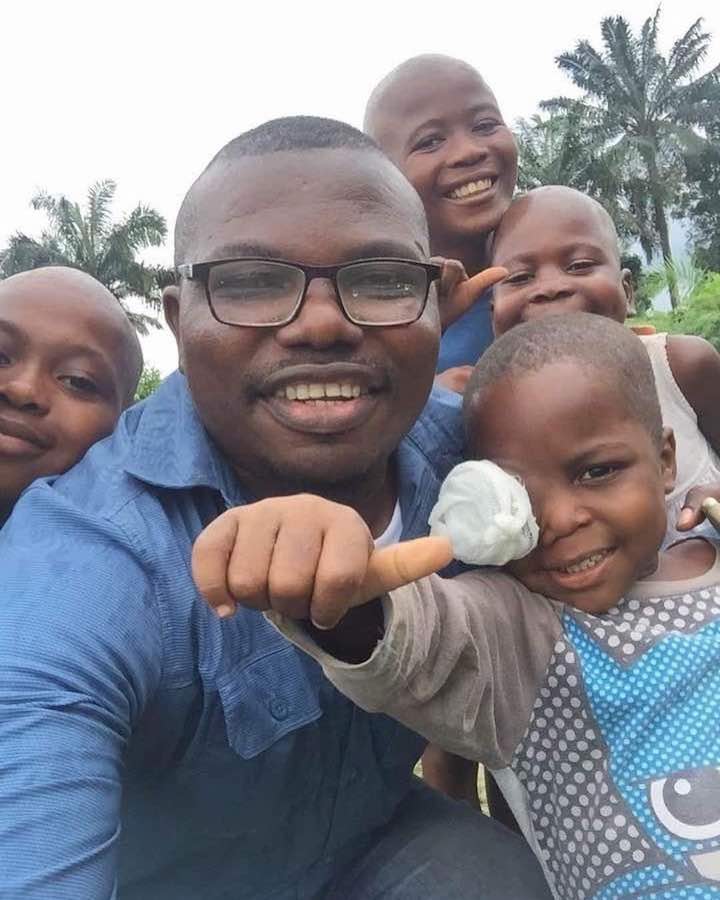 Sensitive Content. Hover over/ Click it to deblur it.
A past experience
from Sam Itauma
In 2003 Mr. Itauma rescued four children from the hands of witch-hunters who dragged them to be killed in the nearby bush close to a market where he lives, because the local sellers believed the children were responsible for their poor sells of goods. He kept the children in his family home for safety while working to reconcile them with their families.
A week later, three orphans who were siblings also arrived at the market to beg for food. They were attacked and tortured but lucky that a woman led them to Sam's family house where other 'witch' children were taking refuge. As the children kept trickling in, as a result of witchcraft stigma and torture, Sam approached the government in 2003 to take the children and keep them in the government centre. He was told that such children cannot be allowed to mix with normal children. He, therefore, decided to open a place for the abandoned stigmatized children in his hometown; with the help of The Catholic Church and Latter-Day Saint Charities. That was the beginning of CRARN Children Centre. He later added a school called CRARN Academy. His organization, CRARN, continued to rescue the 'witch' abandoned children from the street who were lucky to be alive, as he led the campaign and advocacy to stop the phenomenon. By 2008, rescued children in the CRARN Centre were already gearing up to 300 in number.
Mr. Itauma's campaign received a boost from the United Nation Children Fund (UNICEF) and the National Agency for the Prohibition of Trafficking in Person and related matters (NAPTIP) a Nigerian Federal Government agency to facilitate the anti-witch-hunt campaign. A research report done by UNICEF in partnership with CRARN indicates that some religious preachers make a lot of money from deliberately labeling children as witches and wizards with claims of having powers to exorcise them of witchcraft spell while fleecing their parents of their hard earned money. This assertion is confirmed by the UK Observer report of December, 2007 investigative report:
"Evangelical pastors are helping to create a terrible new campaign of violence against young Nigerians. Children and babies branded as evil are being abused, abandoned and even murdered while the preachers make money out of the fear of their parents and their communities…" The report added that:
"Sam Ikpe Itauma is one of the few people in this area who does not believe what the evangelical 'prophets' are preaching. He opened his house to a few homeless waifs he came across, and now he tries his best to look after 131…" Itauma's works have saved the lives of thousands of children who would have otherwise been buried alive, thrown into the river, locked up in toilet for days to die of hunger or piecemeal, abandoned in the bush, forced to eat a local, poisonous eseri berry, choked or strangled to death. It is estimated that more than 20,000 children might have being stigmatized as witches in Nigeria alone and the number of deaths not ascertained as cases like these are usually not reported to the police for fear of reprisal from the witch-hunters. Even if they are reported, influential men in the society work round the clock to get them off the police hooks.
BOOKS/
RESEARCH PUBLICATIONS
about CRARN and Sam Itauma
Several books and research works have been published about Itauma's work. They include, "The Role of a Culture of Superstition in the Proliferation of Religio-Commercial Pastors in Nigeria" By Chima Agazue. "It has become the norm in Nigeria for anyone turning on a radio or television to be greeted by pastors marketing God with testimonies of unverifiable miracles and marketplaces are filled with the religion of noisy preachers with megaphones. Buses and coaches are boarded by mobile pastors claiming that, without their intervention, blood-sucking demons will cause road accidents and attract armed robbers to the travelers. Exorcisms are then conducted and the passengers are expected to pay for these religio-commercial services."
Chima concludes that "…in conjunction with the systematic exploitation of culturally-embedded superstitious beliefs, the true message of Christianity is being perverted by these pastors and it is time for the Nigerian government to find a way of regulating their pervasive activities"
Sentenced in God's Name: The Untold Story of Nigeria's Witch Children – By Chido Onuma
"In the midst of this religious travesty, a few individuals and organizations have taken it upon themselves to support and comfort these helpless children. Of particular interest is Sam Ikpe-Itauma and his Child Rights and Rehabilitation Network (CRARN) who are in the forefront of rehabilitating these abandoned children who have become social outcasts.
Their burden can only be made lighter by a government response that is not only swift but effective. There is no basis for this violence against children on the strength of Nigeria's obligation to continental and international charters on the rights and welfare of the child…."
Random Reflections: Belief: how absurd and dangerous beliefs have led to atrocities]. By Ikechukwu Nwanze
"Nwanze's book might be considered as a confrontational work against some beliefs and traditions; it is a well-researched and must-read piece that should be seen as a wake-up call to all our religious leaders and their followers in Africa, some of who have taken absurdity to a high and noble level in their beliefs." – The Tide
AWARDS Sam was nominated twice for CNN Hero Award of the Year in 2009 and 2010. 2008 Heroes Award – the National Daily Newspaper, Lagos 2008 Man of the Year Award from Weekly Insight Newspaper, Akwa Ibom State 2009 Children's Right Champion Award from Christech International College, Eket 2009 Best Christian Practice Award from First Love Foundation, Akwa Ibom State 2009 Humanitarian Award, Rotary Club International, District 9140 Eket 2009 Humanitarian Award-AKWA Ibom State Association USA (AKISAN) 2010 Prince of the Niger Delta Children. – Core Oil Community Association, Akwa Ibom State 2010 Humanitarian Award, Eket Development Congress, USA.
SHARED AWARDS for Documentary: 'Saving Africa's Witch Children': 2009 British Academy (BAFTA) TV Award, UK 2009 Sanford St Martin Religious TV Award, UK 2009 Amnesty International Media Award, UK 2009 One World Media Award, UK 2009 International Emmy Awards, UK.Chima concludes that "…in conjunction with the systematic exploitation of culturally-embedded superstitious beliefs, the true message of Christianity is being perverted by these pastors and it is time for the Nigerian government to find a way of regulating their pervasive activities"