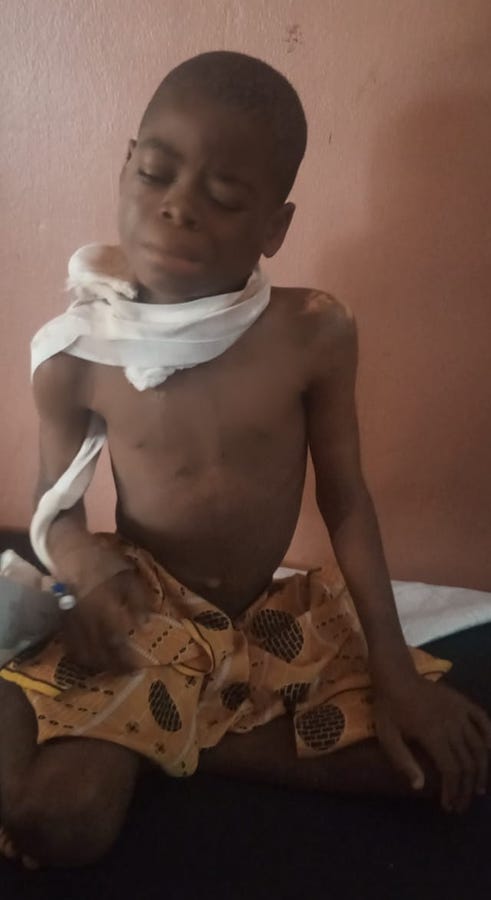 Crarn Seeks Support For 9th Year Old Abandoned In The Bush To Die
The operators of Child's Right And Rehabilitation Network (CRARN) has appealed for support for a 9 year old child by name Daniel Friday whose mother by name Christiana Ikpong took to the bush and cut him on both sides of the neck, back and stomach then abandoned him in the bush for three days.


Dr. Mrs Essien who is in charge of the emergency unit of Immanuel General Hospital, Eket, recounted to CRARN that Daniel was brought to the hospital by a good Samaritan by 11pm on Sunday 1st August 2021. She Said the assaulted 9 year old boy who hails from from Ikot Akpatek, Onna but lives with his divorced mom in Ikot Uso Ekong in Eket local government area is responding effectively to treatment.
Dr Mrs Essien briefed CRARN that Daniel suffered multiple machete cut on both sides of the neck from where big maggots were oozing out. One of the nurses opined that Daniel was reportedly abandoned by the mother to die for about three days, following information from a prophet that Daniel was initiated into witchcraft. At the time of filing this report, Daniel's mother's whereabout was still unknown. Dr. Essien told CRARN team who visited with drugs, food and clothes for the victim, that until their urgent intervention, they were still expecting other good Samaritans to volunteer to buy the drugs, assist with blood transfusion other medical procedure needed to deliver the child from that traumatic experience. She expressed disappointment over such inhumane act towards a child and appreciated CRARN for offering to help the child survive his present condition and ordeal.
It is profitable to note that "you cannot live a perfect day, if you have not done something positive for someone who cannot pay you back''. Please support Daniel Friday. Visit our website www.crarn.net/make-a-donation/ to make your kind donation(s) or via the following account detail.
We look forward to your contributions toward salvaging this vulnerable and hapless child.
PRINCE JOHN EKPO
_FOR: CRARN MEDIA UNIT, EKET, AKWA IBOM STATE, NIGERIA
05/08/2021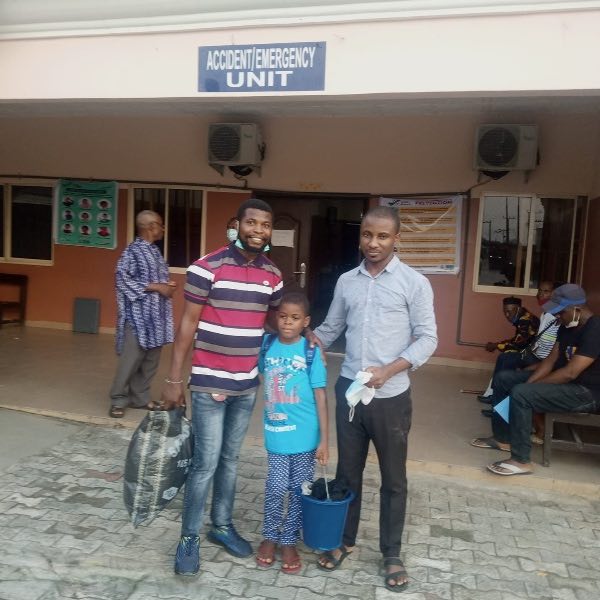 _IMMANUEL HOSPITAL, EKET,  DISCHARGES DANIEL FRIDAY._ 
Little Daniel Friday who some time ago was rescued from the bush to the Immanuel General Hospital, Eket, Nigeria after his mother inhumanely tortured, maimed, wounded with machete and dumped him in the bush with the intentions to kill him, has been  discharged from the hospital.
According to the medical director of the  emergency unit of the Immanuel general Hospital, Mrs Nsima Dominic Essien, Daniel Friday has regained his health and was due to be handed over to the operators of Child's Right And Rehabilitation Network (CRARN), who on humanitarian grounds sponsored and took care of the young Daniel throughout the time of his agony. 
The 9th year old Daniel  as earlier reported was abandoned  after the onslaught to die in the bush and was only fortunate to have been rescued by a good Samaritan to the Immanuel Hospital. 
The mother who abandoned him in the bush while presumed he had died, but God in his infinite mercy visited Daniel, through the magnanimous and humanitarian disposition of CRARN. On friday, the 17th of September 2021, the Young boy who is now hale and hearty was discharged and handed over to the operators of the orphanage home, Child's Right And Rehabilitation Network in Eket, Akwa Ibom state. The correspondent of Ibomfocus Reporters reported that CRARN is carrying out this selfless venture amidst paucity of funds, adding that more funds are being solicited to cater for his basic needs ranging from medication, food, educational materials etc. The selflessness exhibited by Child's Right And Rehabilitation Network is worthy of celebration and support.
The hospital commended CRARN for its humanitarian services and for supporting and standing by Daniel throughout his health ordeal.

On the 29th of September 2021, yours truly was in the hospital with little Daniel Friday on a routine medical checkup as required by the medical doctor in charge of the Immanuel General Hospital Eket, Akwa Ibom state.
On arrival, the CRARN representative and little Daniel Friday were given a warm reception by medical personnel who were all very happy to behold Daniel's face after over two weeks of leaving the hospital for CRARN children center, Ikot Afaha, behind Ikot Odiong main market, Eket, Akwa Ibom state.
Recall that Daniel Friday was that innocent young lad whose neck the mother nearly cut off with machetes as a result of fake prophetic allegations of the boy being intiated into witchcraftcy.
The matron of the emergency unit of Immanuel General Hospital, Mrs Nsima Dominic Essien commended the efforts of Child's Right and Rehabilitation Network (CRARN) for the job well done and encouraged the CRARN team to continue in their selfless supports to humanity.
She poured encomium on the operators of CRARN children center while promising to make her presence available at the CRARN children center on a yet to fixed date.
High point of the visit was the donation of a carton of milk to Daniel to return home with.
According to the medical personnel, Daniel is very much okay and should start school without further delay, a recommendation which CRARN has already executed.